KCN Vietnam and TotalEnergies Form Partnership to Deliver Sustainable Industrial Properties with Solar Panel Rooftops Across Vietnam
09/08/2022
KCN Vietnam and TotalEnergies have successfully signed a Memorandum of Understanding, MOU, for a strategic partnership for TotalEnergies to install rooftop solar panel systems across all KCN Vietnam's industrial properties nationwide.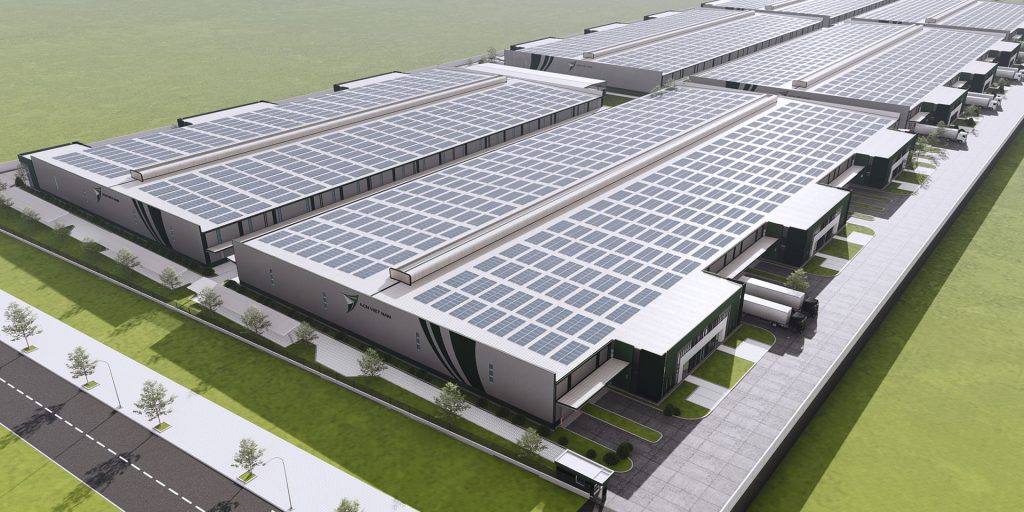 On 12th July 2022, KCN Vietnam and TotalEnergies' strategic partnership negotiation reached a successful milestone in the form of an MOU. Both parties agreed that TotalEnergies would be the exclusive solar energy provider on KCN Vietnam's rooftops. With current and pipeline projects, KCN Vietnam's properties will provide approximately 610,000 sqm of roof space and 280,000 sqm of solar panels. TotalEnergies will operate and maintain the solar panel system for 20 years.
Once the solar panels are installed on the rooftops across KCN Vietnam's existing projects, the maximum solar energy generated is 45 MWp. The annual output is 51 GWH, reducing 23,390 tons of CO2 per year.
KCN Vietnam believes this partnership will aid the fight for sustainable industrial practices in Vietnam. This opportunity will not only adhere to KCN Vietnam's sustainable development strategy but also provide clean energy to tenants looking to reduce carbon emissions.
Ms. Tran Huynh – COO of KCN Vietnam, stated, "Since the establishment of KCN Vietnam, we have been looking for a reliable and experienced partner to help provide clean energy to our tenants. It has been a long journey, but we finally signed the MOU with TotalEnergies. We strongly believe this partnership will aid our stakeholders and us in the journey towards creating a more sustainable industrial environment in Vietnam.
About KCN Vietnam
KCN Vietnam was established to meet the increasing demand for premium industrial properties for rental. As a developer, KCN aims to provide professionally designed, built, and managed developments for the industrial and logistic sectors, enabling businesses to leverage Vietnam's growth in a sustainable manner.
The prominent industrial real estate developer initially acquired approximately 250 hectares of land, with an investment of over 300 million USD. In the coming years, KCN Vietnam intends to expand its portfolio, to become one of the leading local industrial real estate platforms. The long-term vision is to be the local champion for their customers' needs and the right arm for Vietnam's global expansion as a sustainable industrial hub.
About TotalEnergies
TotalEnergies is a global multi-energy company that produces and markets energies: oil and biofuels, natural gas and green gases, renewables, and electricity. Our more than 100,000 employees are committed to energy that is ever more affordable, cleaner, more reliable, and accessible to as many people as possible. Active in more than 130 countries, TotalEnergies puts sustainable development in all its dimensions at the heart of its projects and operations to contribute to the well-being of people.
KCN Vietnam
www.kcnvietnam.com
Get in touch
KCN MANAGEMENT AND SERVICES JSC
HEADQUARTER
Level 10 – Saigon View,
117 Nguyen Cuu Van, W.17, Binh Thanh Dist.,
Ho Chi Minh City, Vietnam
HANOI OFFICE
Suite 1812 – Charmvit Tower,
117 Tran Duy Hung, Cau Giay Dist.,
Hanoi, Vietnam
Hotline: 1900 0089
Tel: +84 28 3840 3898
www.kcnvietnam.com