KCN Vietnam Celebrates Groundbreaking of Premium Industrial Facility in Ho Nai Industrial Park, Dong Nai Province
06/04/2022
Dong Nai Province, April 6th, 2022
KCN Vietnam and An Phong Construction held a groundbreaking ceremony in Ho Nai industrial park to celebrate the commencement of the construction of KCN Ho Nai. The 16.3 ha project will be divided into two phases to deliver a total gross leasable area of 109,000 sqm to the industrial real estate market. The handover of more than 55,000 sqm will be in Q4-2022.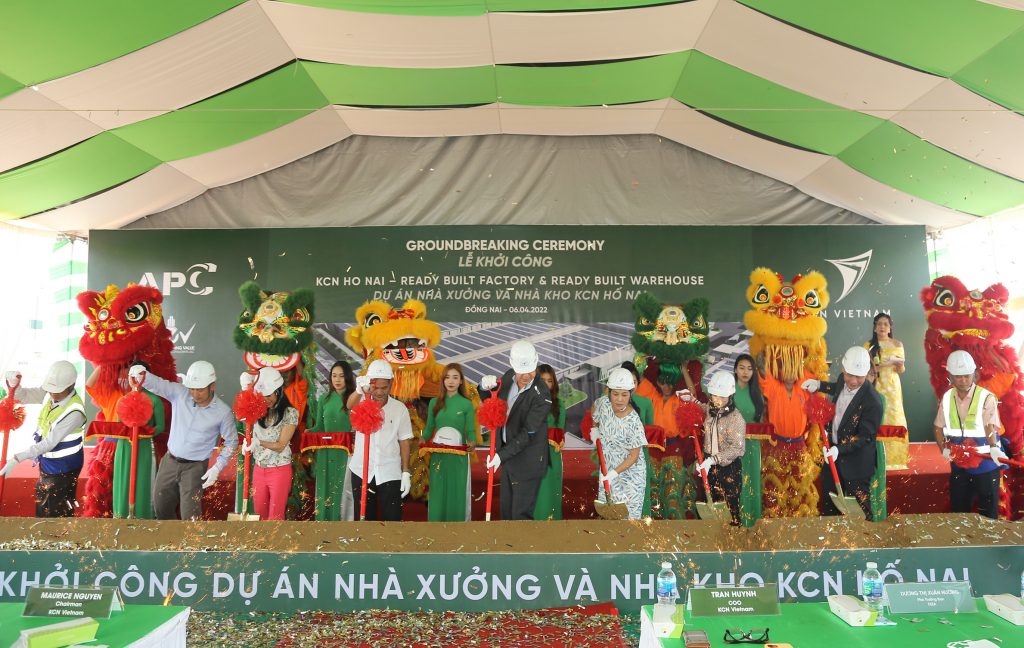 Present at the ceremony were members of the board of directors and management at KCN Vietnam, respective leaders of the An Phong General Contractor, other sub-contractors, strategic consultants, partners, and agents in the industrial real estate industry. The ceremony was also attended by Ms. Duong Thi Xuan Nuong – Vice Head of DIZA, Mr. Tran Kinh Quoc – Vice Manager of DIZA, Mr. Huynh Duc Tan – Chairman of Ho Nai IP, Mr. Nguyen Cong Dinh – General Director of Ho Nai IP, representing Dong Nai Economic Zones Authority officials and Ho Nai industrial park.
Speaking at the event, Mr. Michael Tran, Chief Construction Director at KCN Vietnam, shared, "KCN Ho Nai is our biggest project in the South, so the commencement of construction is a significant milestone for all of us at KCN Vietnam. We are proud to partner with decade-experience construction companies like An Phong. We strongly believe this will become a strategic partnership as both companies share the same vision and mission, to be the best in class in our respective industries and offer premium services and products to Vietnam's industrial market. We hope KCN Vietnam and An Phong Construction will utilize this first cooperation as a stepping stone for future high-quality projects and sustainable developments for the industrial market."
"Professional, experienced, and transparent are words to describe the KCN Vietnam team we have been working with for this project. We will strive to deliver all our commitments to ensure KCN Ho Nai will be completed on time, at the highest level of quality, to deliver exceptional products. We hope to work with KCN Vietnam for the next ones" – Mr. Nguyen Khac Dong – General Director of An Phong Construction.
KCN Ho Nai is situated strategically near queen bees and key logistic hubs; It is located within approximately a one-hour drive to international airports, ports, and Ho Chi Minh City. Phase 1 of more than 55,000 sqm GLA is scheduled for completion in Q4 2022, with modular products: ready-built factories and ready-built hybrids. The facilities will include solar panels to provide clean, sustainable energy to our tenants.
KCN Vietnam plans to develop another 17ha of land in Ho Nai Industrial Park as an extension of the KCN Ho Nai project soon.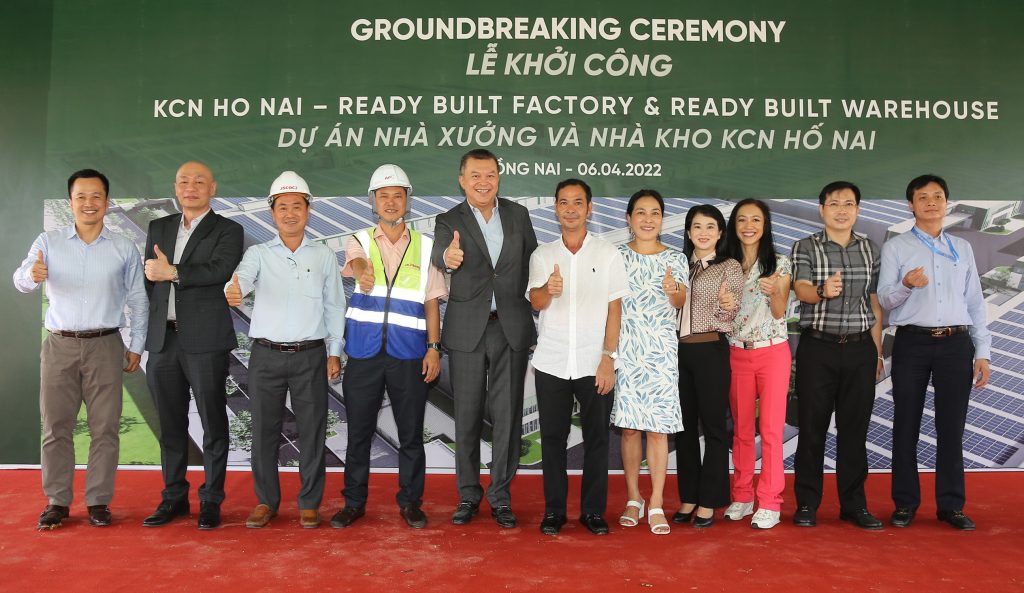 About KCN Vietnam
KCN Vietnam was established to meet the increasing demand for premium industrial properties for rental. As a developer, KCN aims to provide professionally designed, built, and managed developments for the industrial and logistic sectors. The prominent industrial real estate developer initially acquired approximately 250 hectares in the land bank, with over $300 million. In the coming years, KCN Vietnam intends to expand its portfolio, to become one of the leading industrial real estate platforms. The long-term vision is to capitalize on the growth of the supply chain sector in Vietnam and thrive on meeting increasing market demands.
About An Phong Construction
With nearly 02 decades of consistent growth and development in the construction market, An Phong Construction JSC is now firmly named one of the most prestigious contractors in Vietnam. Hundreds of projects in the country developed by Vietnam's most prestige investors, from industrial estates, infrastructure, and commercial high-rise buildings to Luxury apartments, have been successfully constructed and completed by An Phong.
"Built to last," An Phong's unchanging company motto, represents our commitment to investors and partners, guaranteeing that every project is completed with the highest quality and efficiency possible. An Phong constantly strives to refine our craft and professionalism to maintain our reputation as one of the most reliable and prestigious contractors in the Vietnamese market.
For further information, please contact:
Thuy Tran
Marketing Director 
KCN Vietnam
thuy.tran@kcnvietnam.com
www.kcnvietnam.com
Nguyen Khac Dong
General Director
An Phong Construction
pda@anphong.vn
www.anphong.vn
Get in touch
KCN MANAGEMENT AND SERVICES JSC
HEADQUARTER
Level 10 – Saigon View,
117 Nguyen Cuu Van, W.17, Binh Thanh Dist.,
Ho Chi Minh City, Vietnam
HANOI OFFICE
Suite 1812 – Charmvit Tower,
117 Tran Duy Hung, Cau Giay Dist.,
Hanoi, Vietnam
Hotline: 1900 0089
Tel: +84 28 3840 3898
www.kcnvietnam.com